ORDER THE E-BOOK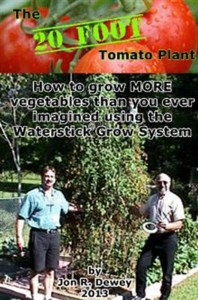 The 20 FOOT Tomato Plant
Please click on one of the links below to ORDER THE E-BOOK

The E-BOOK is available for Windows PC, MAC, IOS, Kindle, Nook,
Other E-readers, Android, Laptops, Tablets, Blackberry, and more
Click on the links until you find a version that works on your device
You do NOT need an E-Reader like a Kindle or Nook to Order an E-Book
Download the PDF Version to your Computer
and view with Adobe Acrobat or Adobe Reader
We are switching e-Publishers for better world wide coverage and easier for customers to use. We are extending our sale on buying BOTH printed books until we get the new eBooks up and running. Sorry for any inconvenience, please check back often for the new eBook Company Links. We should have the new eBooks up for sale soon.
I get MANY emails asking me for a PRINTED copy of the book

So, we now also offer a PRINTED version of the book !!!!

Please click on the ORDER THE BOOK Tab to order your copy

These PRINTED versions are going FAST, so order your copy TODAY !!!!