May 03, 2014 In the original garden we have planted 2 Better Boy Tomato Plants, 16 Bell Pepper Plants, Red Romaine, Green Romaine, Spinach, and Norland Potatoes. The new garden has 12 Tomato Plants. 3 Rutgers, 3 Celebrity, 3 Early Girl, and 3 Health Kick. Everything seems to be doing well.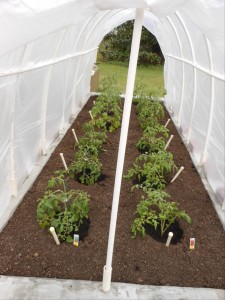 April 15th New garden planted with 12 young tomato plants.
The plastic cover is attached to the hoops. The ends are open during the day to allow air to flow through the garden to keep it from getting too hot, and are easily closed at nighttime to protect the plants from frost or before strong storms.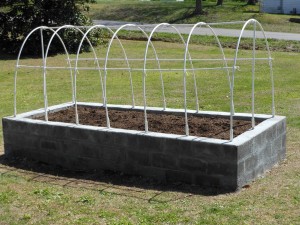 Here is the first photo of our new garden we had built for season 2014. It turned out even nicer than the original one we had built last year. The arched hoops and supports are removable. This arch will be covered with plastic in the spring to protect the plants from frost and the strong Spring storms we have here, that could damage the young plants.