How to grow MORE vegetables than you ever imagined using the WaterStick® Grow System!

If you are wanting my NEW Book
The 20 FOOT Tomato Plant II The Next Season
Scroll to the bottom of the page
Thank you for visiting the WaterStick® Grow System website.
In my first book ( The 20 FOOT Tomato Plant ), I teach you how to grow an amazing amount of food in very small spaces, using LESS water, LESS chemicals, and NO toxic pesticides. I was raised on a small farm, and I've been gardening and inventing new ways to grow MORE food in SMALLER spaces almost my entire life. I wrote the book so it was very easy to read, and whether you are a Beginner Gardener or a Master Gardener, you will grow more vegetables than you ever dreamed possible using this system.
In the book, I give you step by step instructions on how to build / make several of my patented inventions:
THE WATERSTICK® It allows you to water and fertilize the entire root of your plants at root level. Watering and fertilizing at root level you will use 75% LESS water to grow MORE food.
SUPER42VITALIZER® my vitamin based fertilizer. This is a blended fertilizer with a powerful vitamin formula added that makes the plants grow big and strong.
BUG JUICE® an Organic Pest Repellent. BUG JUICE® is given to the plants at root level through my WaterStick®. The plants absorb it though the roots, so a wind or rain storm can't blow or wash it off the plants. BUG JUICE® does not kill bugs, it REPELS bugs using organic ingredients that are perfectly safe for humans. I also give MANY tips to help keep your gardens soil in perfect condition and to make your gardening experience as easy and enjoyable as possible.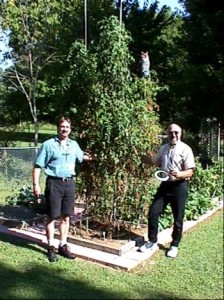 The one thing that everyone asks me about is our Tomato Plants. We average 150 to 200 pounds of tomatoes PER PLANT on large tomatoes like Better Boy, and 60 to 100 pounds of Tomatoes PER PLANT on Cherry Tomato plants. The book is called The 20 FOOT Tomato Plant because before I became disabled we grew tomato plants that were 15 to 20 feet tall every year. The largest plant I ever grew was 20 feet 8 1/2 inches high and this single plant produced 372 pounds of tomatoes.
The 20 FOOT Tomato Plant – IN PRINT !!!!!
The long awaited printed version is finally HERE !!!
Reserve your copy quick, because they're going FAST !!!
Order Below $15.00 + 5.95 S/H

Buy BOTH books and save $$
The 20 FOOT Tomato Plant – IN PRINT !!!!!
The 20 FOOT Tomato Plant II The Next Season – IN PRINT !!!!!
Order Below $25.00 + 6.95 S/H

E-BOOKS are less expensive
If you are wanting to order the E-Book
Please click here to ORDER THE E-BOOK

The E-BOOK is available in many formats for various E-Reading devices
You do NOT need an E-Reader like a Kindle or Nook to Order an E-Book
Download the PDF Version to your Computer
and view with Adobe Acrobat or Adobe Reader
To Read About or Order My NEW Book
The 20 FOOT Tomato Plant II The Next Season